The Research and Development department cooperates with leading research institutes to design and provide alternative solutions and technologies that meet new customer needs and are increasingly optimised in terms of energy savings.
---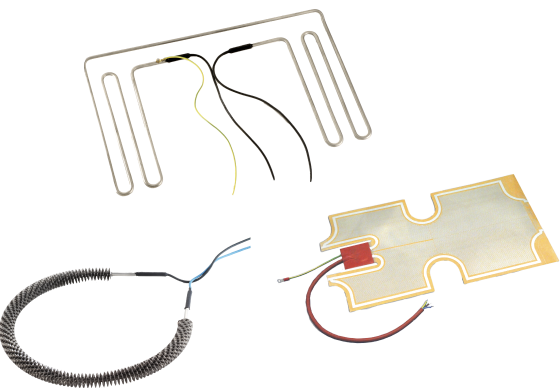 Macro trend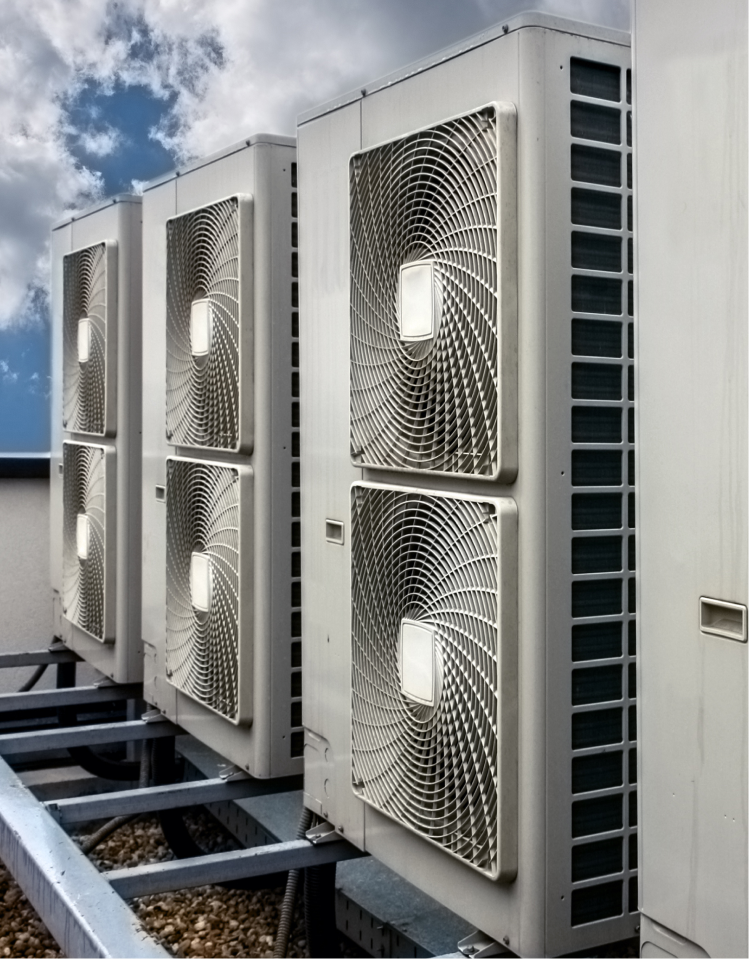 Efficient, reliable and sustainable flammable gas solutions: the use of flammable or mildly flammable refrigerant gases (widely used today in both small and large plants) helps reduce energy impact.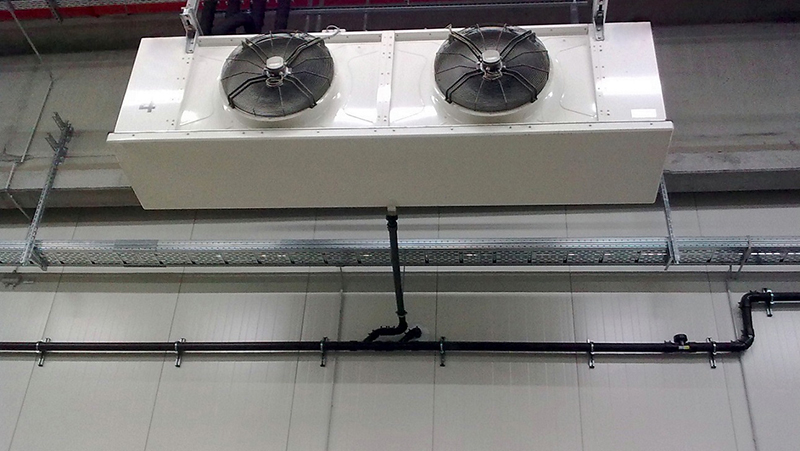 Cold room
---
We supply vulcanised armoured heating elements for the finned coils of cooling systems (air-coolers) used in cold rooms and cold store.
Our products are available in a wide range of materials, sizes and supply options to find the ideal solution for every need.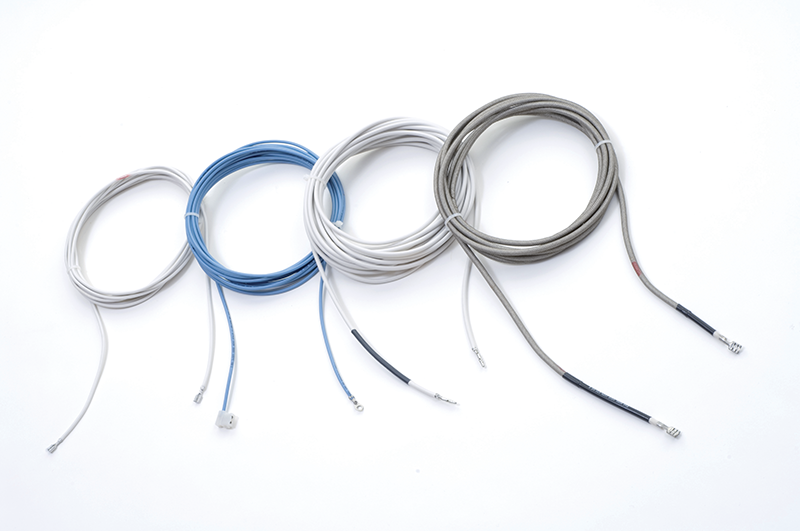 Heating cables
---
We provide a wide range of Heating Cables with external PVC or silicone insulation.
Our choice of insulation materials allows us to meet different customer requirements and comply with all safety regulations.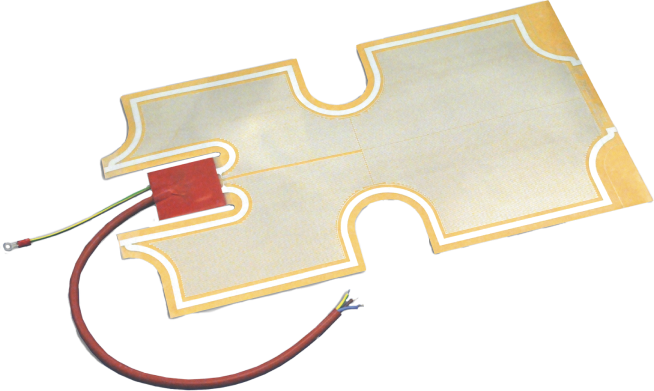 Air-coolers drip tray heating and inner drip-tray
---
We offer adhesive flexible heaters and "cables on aluminium foil" made via modular construction. This highly waterproof solution prevents the formation of ice in the defrosting water collection inner drip-drays of the cooling systems (Air-coolers).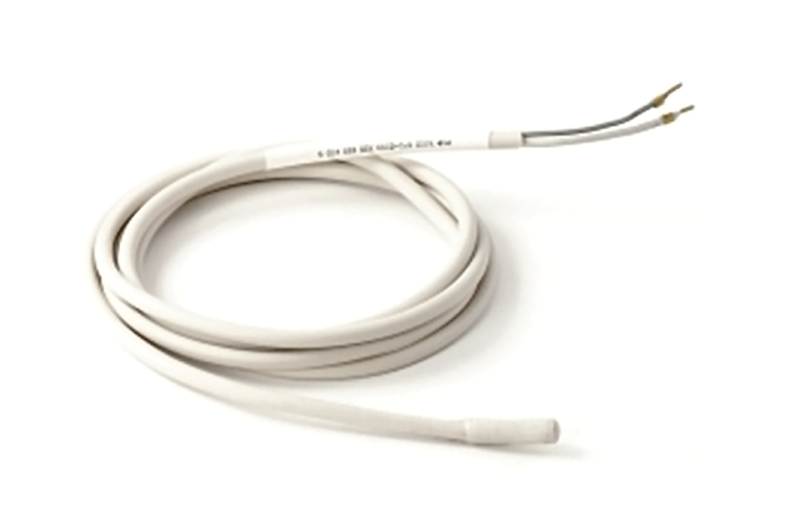 Drainage pipe heater
---
Our single outlet heating cables (supply from one side only) are manufactured with external silicone insulation in order to prevent the formation of ice in the defrosting water flowing in the drainage pipes of cooling systems located inside cold rooms and stores.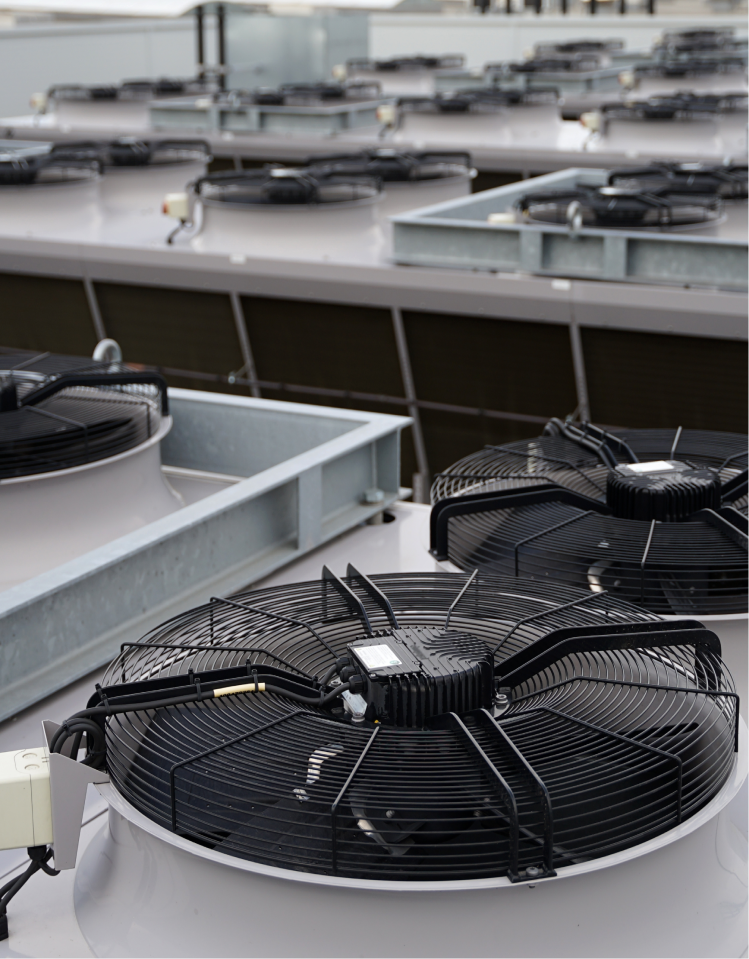 Flexible heating solutions for fan nozzles (both plastic and metal nozzles) enable maximum customisation, reduce the risk of fan blockage and ensure energy efficiency that reduces waste and consumption.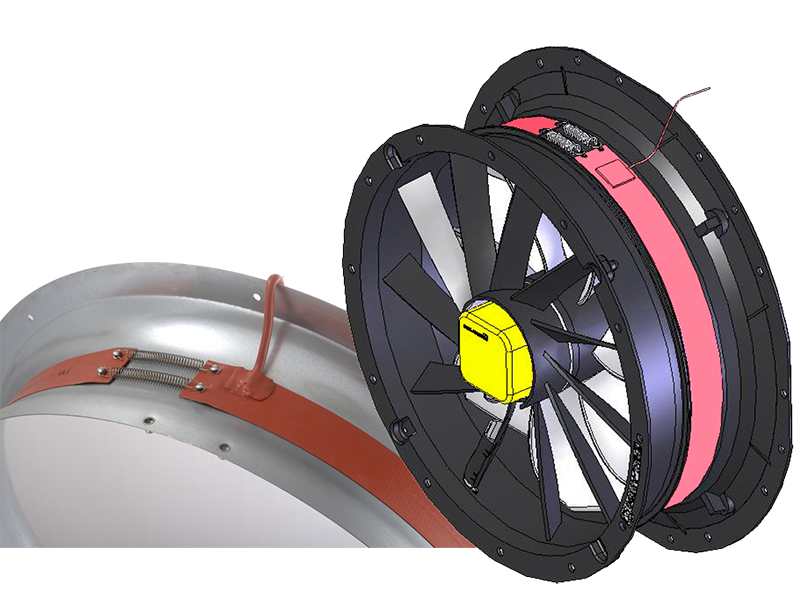 Fan nozzle heater
---
Our flexible heating elements, available in a band configuration, are the most suitable solution to prevent ice build-up between blade and nozzle and reduce any related damage (fan blockage). In order to ensure technologically and cost-effective solutions, we offer a flexible band heater made with "Silicone Etched Foil" technology for "plastic" and "metal" fan nozzles for low-temperature evaporators.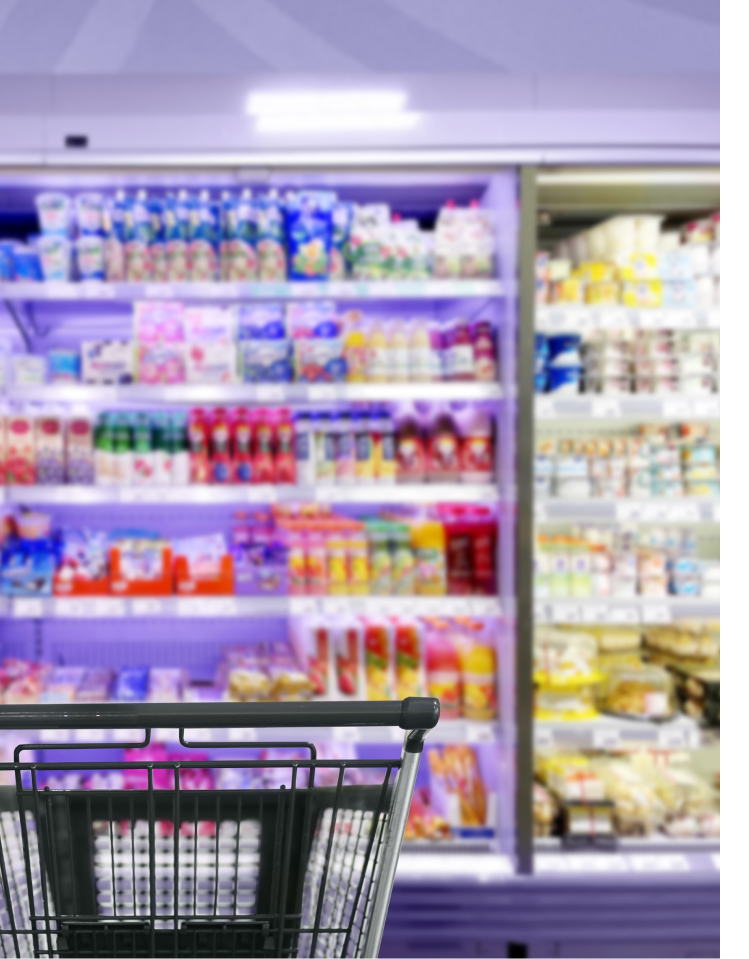 Co-design work and co-engineering ensure the best integrated solutions are found to match the increasingly specific and demanding customer requirements.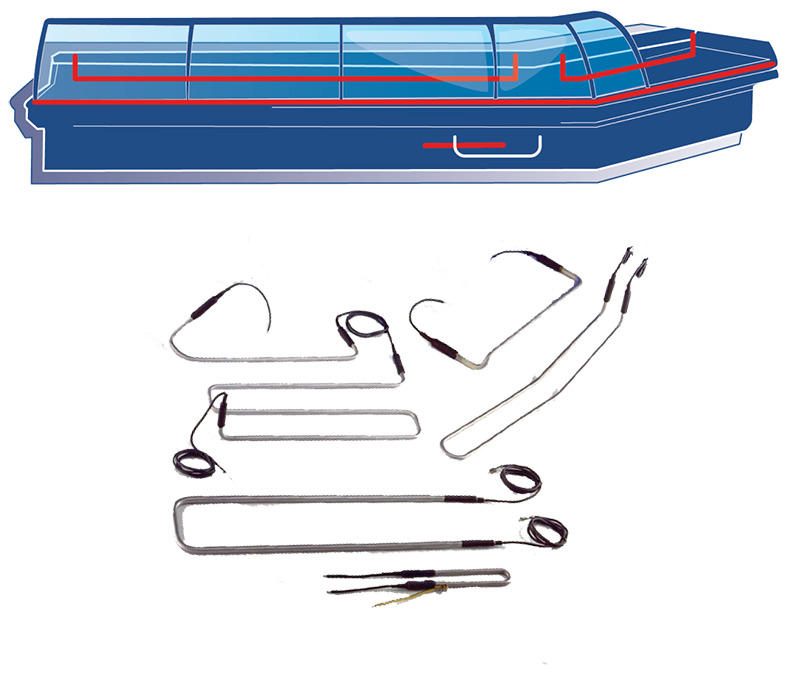 Remote refrigerated containers
---
We manufacture a wide range of heating elements for refrigerated containers installed in supermarkets and small stores: heating cables, flexible heaters, cartridges, water drainage cables and vulcanised armoured heating elements that can be made to measure. Our goal is to always provide the most appropriate and reliable solution that will limit energy consumption.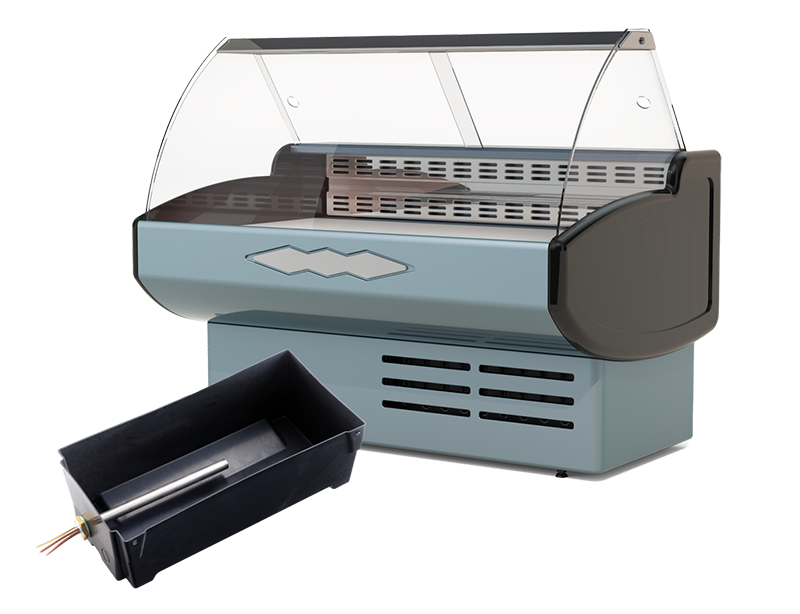 Plug-in refrigerated counters
---
For refrigeration units we supply complete defrosting water re-evaporation trays, equipped with energy-saving PTC cartridges, which can be created via plastic injection moulding or based on customer designs and made in stainless steel.
We also supply trays with integrated water level sensor to help to save the planet by greatly reducing energy consumption.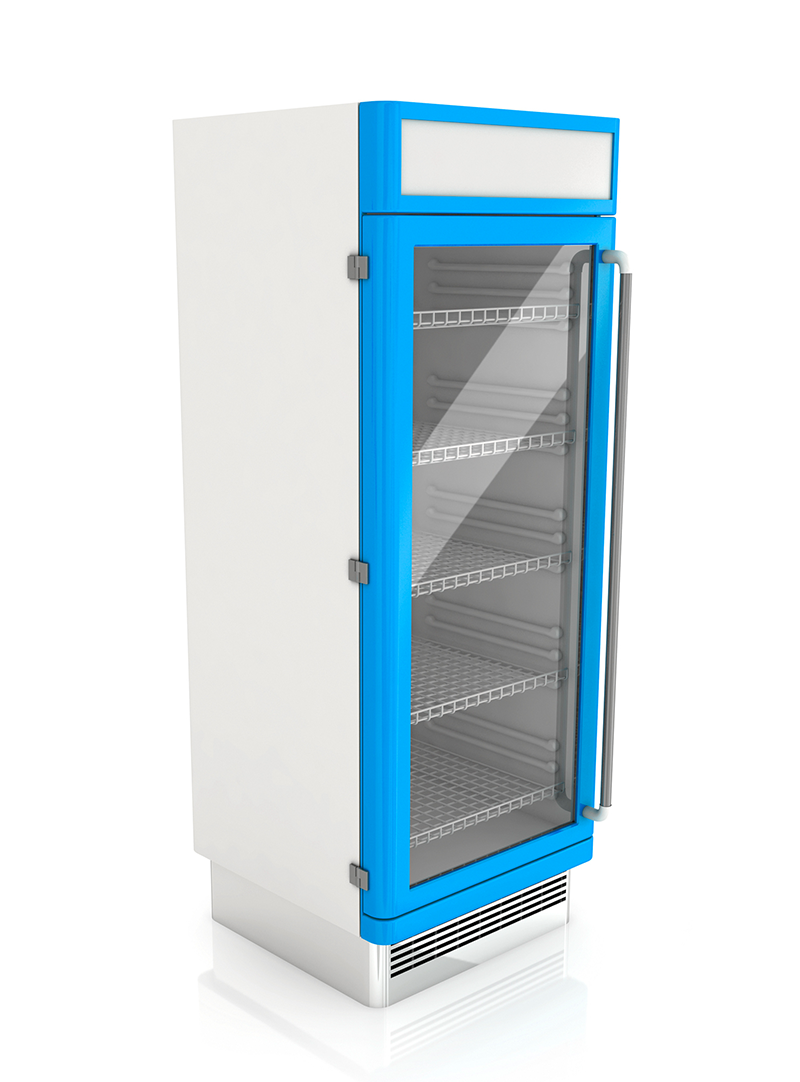 Refrigerated display cabinets
---
For the glass doors of vertical refrigerated cabinets, we supply anti-condensation heating cables, vulcanised heating elements for evaporator defrosting and adhesive foil heating elements for the anti-condensation function.
Our solutions are designed to be reliable and reduce energy consumption as much as possible.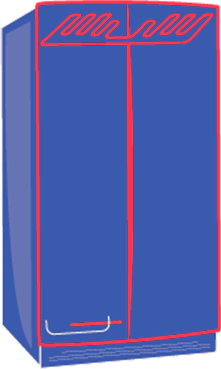 Catering cabinets
---
For refrigerated cabinets used in the catering industry, we offer solutions such as: door gaskets, anti-condensation and anti-fogging systems for glass panes, condensed water re-evaporation trays, vulcanised armoured defrosting heating elements and flexible heaters for electronic protection.
Innovation, safety and sustainability are the three aspects that drive our work, to offer efficient solutions that reduce waste and failures.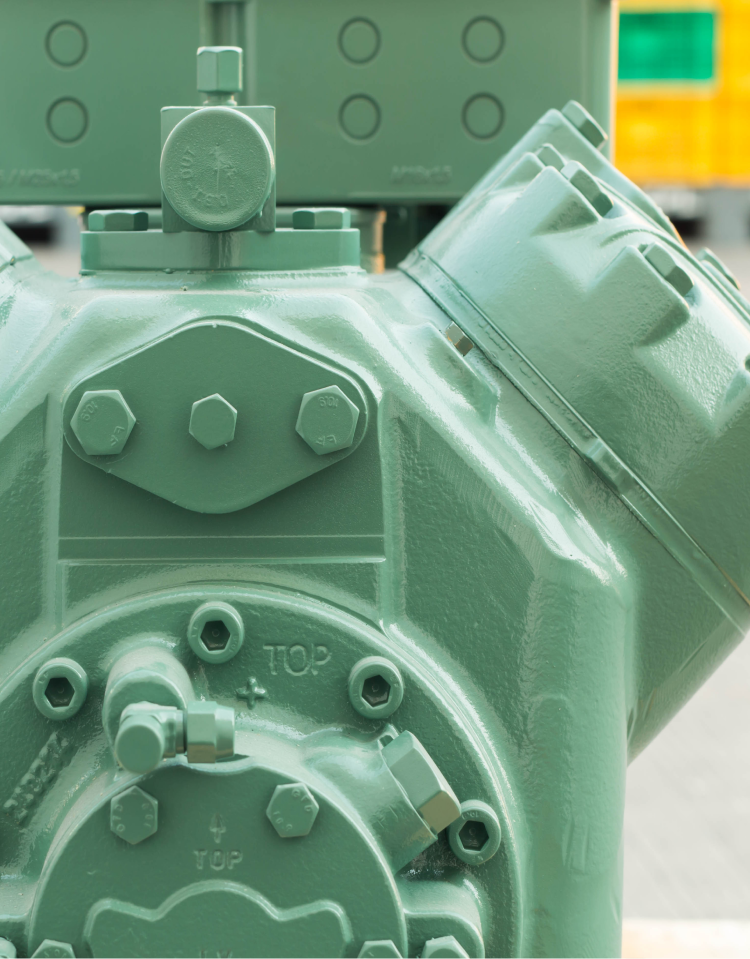 Adapting refrigerator compressors to the new generation of less polluting gases allows us to combine performance, safety and reduced greenhouse gas emissions.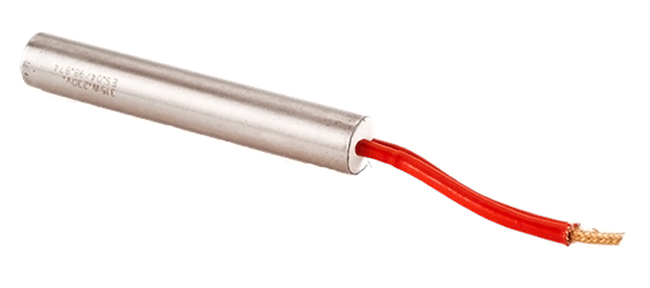 Casing heaters for piston/screw compressors
---
For piston or screw compressors, we supply heating cartridges that utilise the heating of the refrigerant/lubrication oil mixture, separating the two fluids. Our system extends the compressor lifespan and optimises performance. The PTC version also saves energy when no power is required.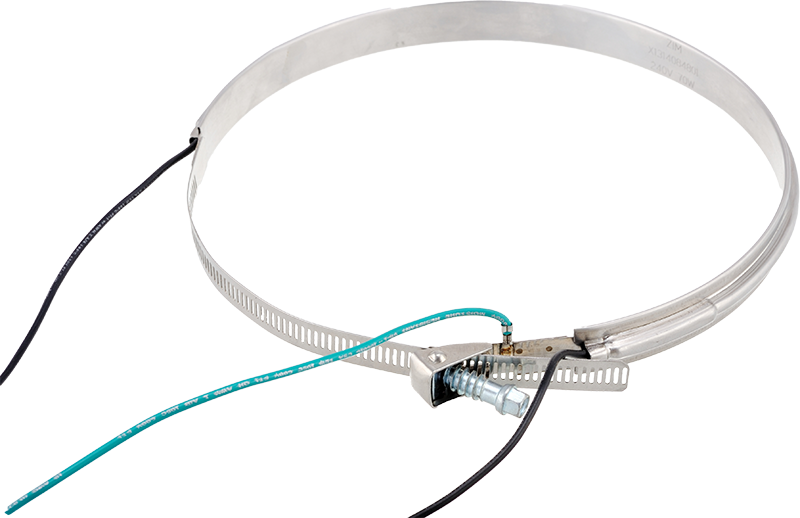 Scroll compressor casing heaters
---
We supply external belt heaters for scroll compressors that enable to separate the refrigerant from the lubrication oil, thus extending compressor lifespan, optimising compressor performance and limiting energy waste.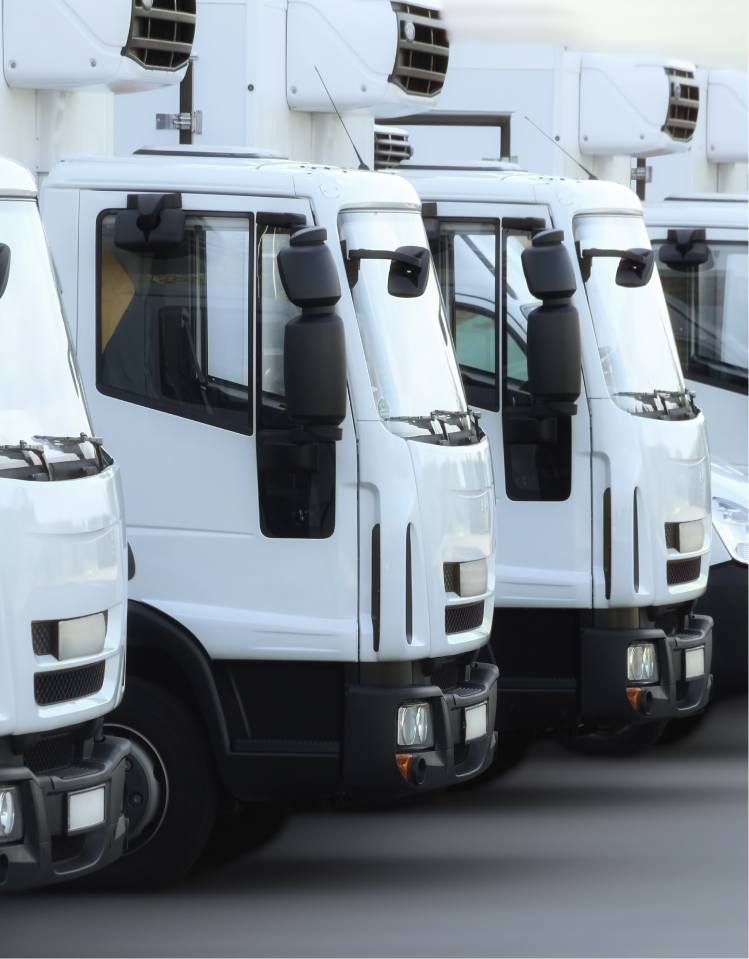 The refrigerated, conventional hydrocarbon and electric transport sector is increasingly in need of solutions that enable to maintain high performance while lowering consumption.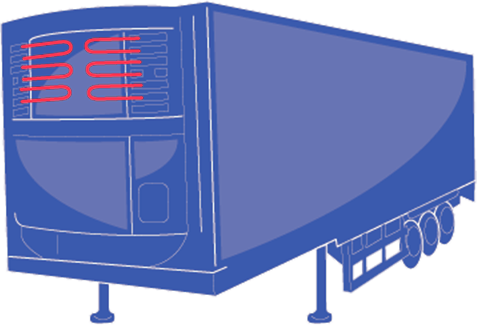 Trucks & trailers
---
In order to provide the appropriate response to the various requirements of the refrigerated transport sector, we offer a wide selection of sheath materials in rubber or silicone for vulcanisation, and cables suitable for a wide temperature range.
Our solutions also take into account the need to limit energy consumption, especially associated with electrical transport and are designed to minimise energy waste.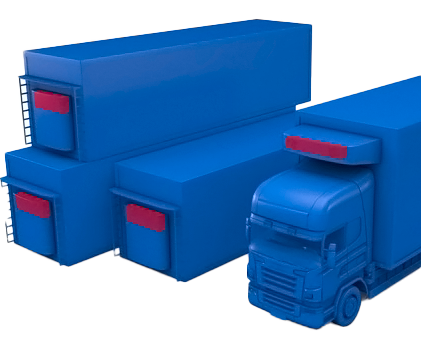 Container
---
Our solutions are capable of meeting the demands of the most aggressive environments (such as the marine environment), thanks to the use of materials suitable for the working environment. Our defrosting and heating elements ensure ripening temperatures for fruit and vegetables in transit.
We also supply elements that can withstand the voltage peaks that often affect this type of equipment.
CONTACT OUR TEAM

Our experts are here to provide assistance, ensuring that you receive the perfect solution tailored to your needs.
CONTACT US
Why you should choose Zoppas Industries
---
More than 60 years of experience in the production of heating systems
---
Heating systems with high performance and reliability, systematically controlled through lab tests
---
Products conforming to the main certifications and international quality and safety standards
---
Excellent production capacity
---
Global supplier and most of all, project partner all around the world
---
Constant innovation thanks to Research & Development investments
Downloads

Catalogo Refrigeration UK+USA
Download